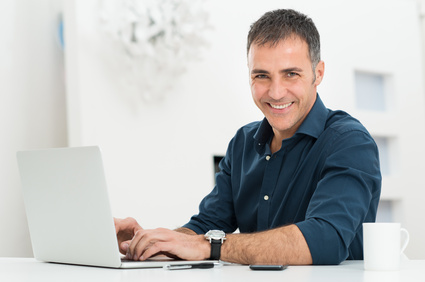 QuickBooks Custom Programming
As recommended as QuickBooks is, there may be times when you find yourself needing an added personal touch to the system -- either through a custom report, integration with your existing software, or additional functionality that is not included in the off-the-shelf version of QuickBooks.
Eighty percent of small businesses utilize QuickBooks to handle their accounting needs. This includes accounts payable, accounts receivables, time tracking, vendor databases, and client databases. QuickBooks' one drawback that it does not allow for native importing of other systems data.
Most businesses and their accounting firms are not aware that they can import anything into QuickBooks with a little help from a custom-programming firm. By integrating disparate systems with QuickBooks, businesses can increase their productivity and run more efficiently by eliminating redundant data entry.
HOW QUICKBOOKS CUSTOM PROGRAMMING HELPS SMALL AND MEDIUM SIZED BUSINESSES
Single entry of data
QuickBooks integration means that the data only has to be entered once. Once the data is entered into a company's time keeping or order entry system, there is not need to do anything more. The data is also entered into QuickBooks in real time, meaning fewer man-hours and more efficiency.
Lesser Errors
There are less data entry errors when QuickBooks integration is utilized, as there is less human data entry needed.
Enhanced Cash Flow
QuickBooks integration allows for faster workflow from the point of entry to the billing stage, which allows the business to bill faster and increase cash flow.
HOW QUICKBOOKS CUSTOM PROGRAMMING HELPS ACCOUNTING FIRMS
Problem Solvers
By facilitating QuickBooks integration for their clients, accounting firms will be viewed as problem solvers by their clients. Being seen as an advisor that can help with broad areas of the business, will lead to more referrals and more overall work for each firm.
Less Errors
Because the information is automatically updated, accounting firms will find that there are fewer errors in their clients QuickBooks files. This decrease in errors and time spent correcting information will allow the accounting firm to work faster and more profitability.
Timeliness
Accounting firms will discover that their clients will hand over their QuickBooks files earlier, which will allow the firms to handle the busy tax seasons with ease.
Higher Rate Accounting Work
Because clients will be spending less money on bookkeeping services, accounting firms who recommend QuickBooks integration will see that these same clients now have larger budgets for higher rate accounting work.
METHODS
There are two main methods used to facilitate QuickBooks integration. These are batch imports and back-end integration. With batch imports, the business owner can create an export file, view the contents, and then choose to import that file into QuickBooks. With back-end integration, the two systems talk to each other directly meaning that all is completed in real time.
Good examples of business that can benefit from QuickBooks integration are accounting firms, staffing agencies that utilize time tracking systems to pay their employees, online stores who sell products online, and then must record the sales data for accounting, and large construction companies that utilize complex work order systems.
A credible custom-programming firm can be utilized to integrate QuickBooks into most web applications or desktop application. This integration enables small and medium sized businesses to grow by reducing man-hours, increasing efficiency, and improving company productivity.
E-Tech's Solutions
E-Tech's QuickBooks programming and custom application development services extend QuickBooks beyond its core functionality, providing you with a cost-effective alternative to expensive, larger accounting software and complex ERP systems. E-Tech offers custom Quickbooks programming solutions to solve complex business problems and integrations to other business software
Our team will analyze your situation and provide a timely, secure, and effective solution to your problems.
Our Solutions Have Provided the Following Functionality:
Create custom reports, charts and graphs from QuickBooks data
Automatically create Invoices and Bills in QuickBooks from custom software
Create QuickBooks Time Sheets from custom software
Add and update Customer information
Add and update Employee information
We are proficient in the latest software integration, development and programming tools and technologies, including: C#, Visual C++ (VC++), MFC, ATL, STL, WIN32, GDI+, SQL Server, ADO.NET, Custom Controls, COM, DCOM, ActiveX, DotNet Component Services, DotNet Remoting, ASP.NET, XML, SOAP, Web Services, QuickBooks SDK, Intuit Partner Platform (IPP), QuickBooks Web Connector.
E-Tech's Expertise
With over one million businesses in the U.S. depending solely on QuickBooks for their accounting functions, E-Tech's team of experts have worked with to help businesses within virtually every industry convert to Quickbooks, and have the experience to performing QuickBooks Data Conversions that allow you to take advantage of QuickBooks Enterprise's custom solutions:
We work with the following industries:
Accounting
Agriculture
Construction
Distribution
Education
Engineering
Financial Services
Government
Healthcare / Medical
Information Technology
Insurance
Legal
Manufacturing
Nonprofit
Professional Services
Real Estate
Retail/Hospitality
Telecommunications
Our certified QuickBooks advisors provide the professional business management solution and technology consulting services needed for your business. With over a decade of expertise, we take pride in performing over a thousand QuickBooks data conversions in additon to other QuickBooks transactions in US and Canada.
What our customers are saying
"E-Tech's professionalism and expertise is impressive." - Jim S.
"E-Tech performed QuickBooks data conversion services for our organization. They were extremely helpful and knowledgable. I would highly recommend E-Tech." Wendy T.
"Being misled and poorly informed by other companies, I had eventually made the decision to go with QuickBooks Premier for my company. The team at E-Tech was super helpful in guiding and offering advice as well as adding additional users to the program. They went above and beyond with customer service and offered much more than I had expected. Thank you guys." Amanda Z.
E-Tech is very knowledgeable and proficient at what they do. They are not in a hurry to get tasks completed but take their time and make sure that the job is done correctly and without errors. I am very satisfied with the service I received and will definitely be doing more business with them." Guy B.